Since the launch of the Pixel 7 and Pixel 7 Pro last year, we have been quite excited about the upcoming Pixel 7a. As Time Flies, the launch of Pixel 7a is now just a couple of months away and the leaks and rumors about it are all around the corner. Surprisingly, someone is selling the alleged Google Pixel 7a prototype on eBay.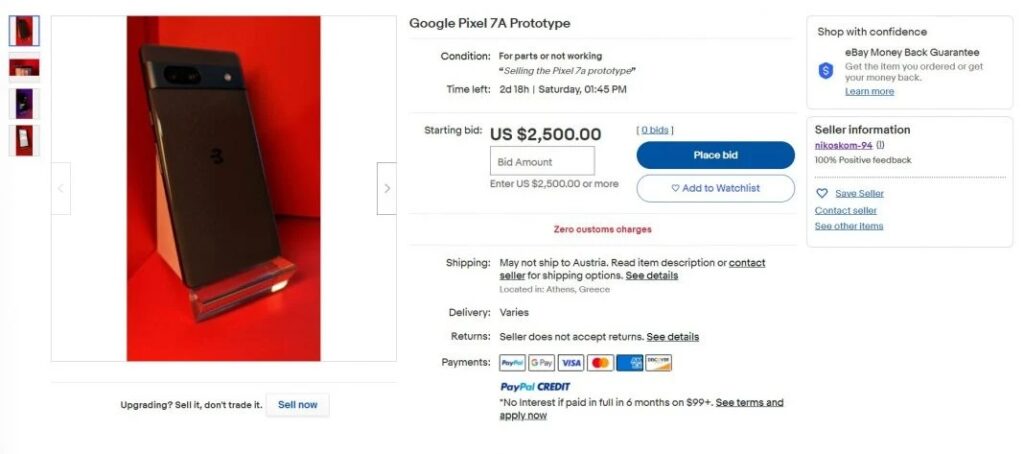 Must See: Here are the Google Pixel 7a hands-on pictures: Bundles 8GB RAM and 128GB Storage
Precisely, an eBay user – nikoskom-94 is selling the yet-to-launch smartphone prototype which somehow looks exactly the same as the photos leaked a few days ago. The only noticeable change we could notice is the presence of Pac-Man Silouthee. However, the remaining design is the same as revealed a few days ago.
The device was initially put on auction for $5000, then reduced to $2500, followed by $1650. It is now on sale for $2550, but still, there are no takers. It is quite exorbitant price for a device will will initially sell for less than $500.
Pixel 7a Expected Features
In other news, the Pixel 7a is already set for launch on may at the Googel IO 2023 conference. We expect hte smartphon eot feaures Tensor G2, a 6.1-inch FHD+ OLED display having 90Hz refersh rate. Further, the device coudl featue 8GB LPDDR5 RAM and 128GB UFS 3.1 storage. As expected, it will boot with Androdi 13 OS.