It's been some time since Pixel 7 users are having 'Phone Idle' battery drain problems. There have been extensive threads over the Reddit and official Google Community addressing the same issues. As like the call drop issue, the 'Phone Idle' battery drain is also affecting several Pixel 7 and Pixel 7 Pro users. Some started experiencing the issue after December 2022 Security Path, while others are really having issues since the launch.
Must See: Best Pixel 7 Cases you should try in 2023
What is Phone Idle Battery Drain Problem?
In most cases, the issue is related to apps, and device settings that let the battery drain even if the phone is idle. Different users have different scenarios and settings, but all are getting affected by this issue. A user on Google Community said, "battery saver is enabled. No recent apps. Smooth scrolling off. Dark theme on. I haven't used the phone for the last 9 hours, but battery level dropped from 88% to 63%. Is this normal?" While another user replied, "I am currently on Android 13. My battery depletes in less than 12 hour with no active use. This means that I am not able to use this as my primary phone as the battery life is impractical for any significant usage. I previously had very good battery life with this phone. Purchased in August 2022. The suggested trouble shooting is generic and doesn't resolve the phones issue. What else can be done to get the battery drainage rate reduced?"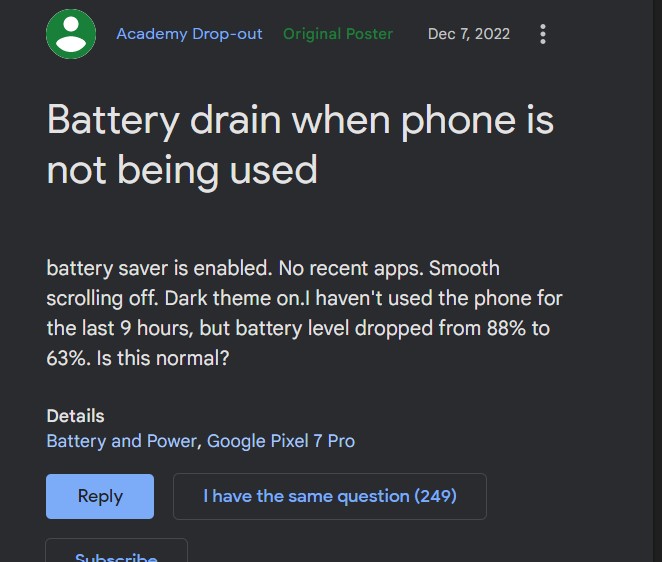 Similarly, there are multitudes of reports made by several users giving reasons and explaining the issue with different reasons. In a possible explaination for the issue, a user on Googel Coomunities explained the potential real cause.
Potential Causes of Issue
As per the user, the 'IMSService' is frequently accessing the device's location;precisely, after every 60 seconds. The issue for the user started after the December 2022 Security Patch update. The service providers are poorly using the 'ImsService' framework that is leading to the issue.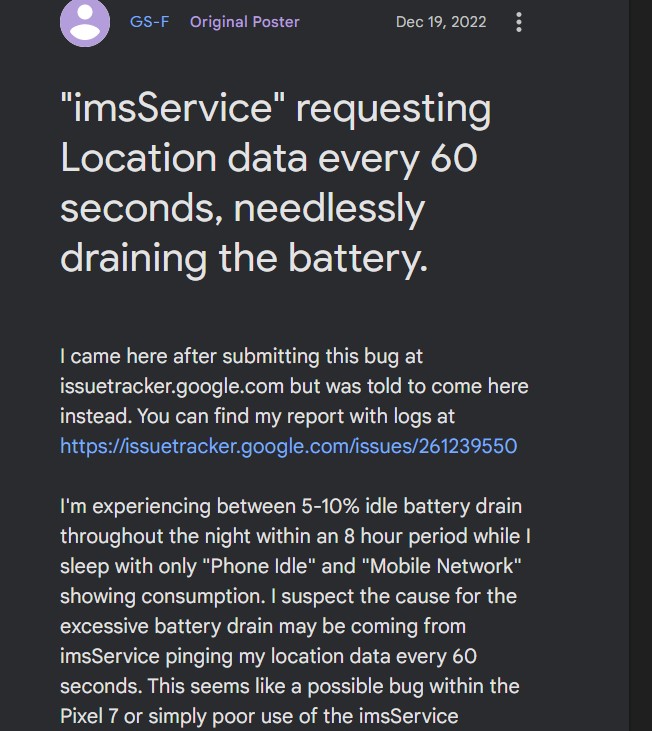 However, another user says the 'Media Server' system is consuming excessive battery, while for other the poor 5G coverage is adding to battery drain woes.
Google Cooking Permanent Fix
Google has escalated the issue to its development team for better evaluation. Along wit the Pixel 7, the issue is also under investigation for Pixel 6 and 6a devices.
Ways to Fix 'Phone Idle' Battery Drain Issue
Until the official fix arrives, here are some steps to reduce the 'Phone Idle' Battery Drain on your Pixel 7 and Pixel 7 Pro.
Adaptive Battery
First of all, make sure you are using your phone atleast for a week. The AI automatically maximizes the battery standby upon your usage patterns. The device takes a few days to a week to fully optimize the battery usage. So, it is highly recommended to wait if you've installed an update or reset your device.
Restrict Background Battery Usage
Apps running in the background can extensively drain battery, it is always recommended to keep tab on the background running apps. You can do so by heading to Settings > Battery > BatteryUsage. You can evaluate the app usage in the past 24 hours, and can add any app to Restricted access to forbid it from running in the background.
The graph can help locate the app that is causing 'Phone Idle' battery drain. It is a useful tool to reach the root cause and eliminate or restrict that app from running in the background. This technique is effective until or unless the service causing issue is a system based task.
Turn Off Always Active Mobile Data
To bare your device from switching between WiFi and Mobile Network if WiFi signal is not strong, make sure your Mobile Data is turned off. It will help reduce the battery drain as it will keep connected to WiFi even if the signal is not apropriate. To So, you need to head vover to the Developer Options and perform these settings:
Goto Settings > Developer Options (If not enabled, you can do so by tapping build number in About Phone 7 times. )
Then, under Networking you have to disable Mobile Data always active.
Disable Always-On Display
It is another useful feature that you can disable if it is impacting battery life upto some extent. You can do so by heading to Settings app.
Open Settings > Display > Lockscreen.
Now, disable Always show time and info.
It can be potential issue causing battery drain on Pixel 7 .
Disable Adaptive Connectivity
Many of uers won't have heard about this feature, that is present on most of the smartphones. If your network provider offers standalone 5G, 4G or any other connectivity. Then it is always better to select only that technology for communication services. If the 5G connectivity in your area or city is good, then you should that Nework Mode. For eg, If 5G coverage is optimal, then simply select 5G only, or if 4G is better, then Select 4G only option. This way, you can save a lot of battery by disabing not required bands and modes.
Enable Battery Saving Mode
The 'Phone Idle' Battery drain issue mostly affects at night time, when user don't use it for the span of 7-9 hours. So, it is highly recommended to turn on BatterySaver Mode for that period of time. You can add a routine or you can use any app to automate the Battery saver Mode at night. It can be done manually by following the steps below:
Open Settings > Battery > BatterySaver > Enable Battery Saver Option
Or, You can add Battery Saver Tile in Quick Settings Menu for better accessibility.
Your battery standby will gradually improve.
That's all the things that you can do to reduce overnight battery drain when your Pixel 7 or Pixel 7 Pro is idle. We are expecting a fix for this issue in the coming updates as Google has already started working on the issue. The Issue is not only affecting the Pixel 7 series smartphones, the Pixel 6 and 6a are also having similar issues.
Related: Google Wallet Quick Settings tile reverts full card name displaying on Pixel 7 series
We hope the above fixes have temporarily plugged Idle Phone Battery Drain issue on Pixell 7 and Pixel 7 Pro. In case, if we missed any fix, or you've a better fix, then make sure to comment below.