In a new Counterpoint Research report, we have got hands-on the actual making cost of the Pixel 7 Pro mmWave variant. According to the report, Pixel 7 Pro just cost $413 for manufacturing which involves hardware from small components to the display. Surprisingly, Samsung's internal components accumulate 51% of the overall cost.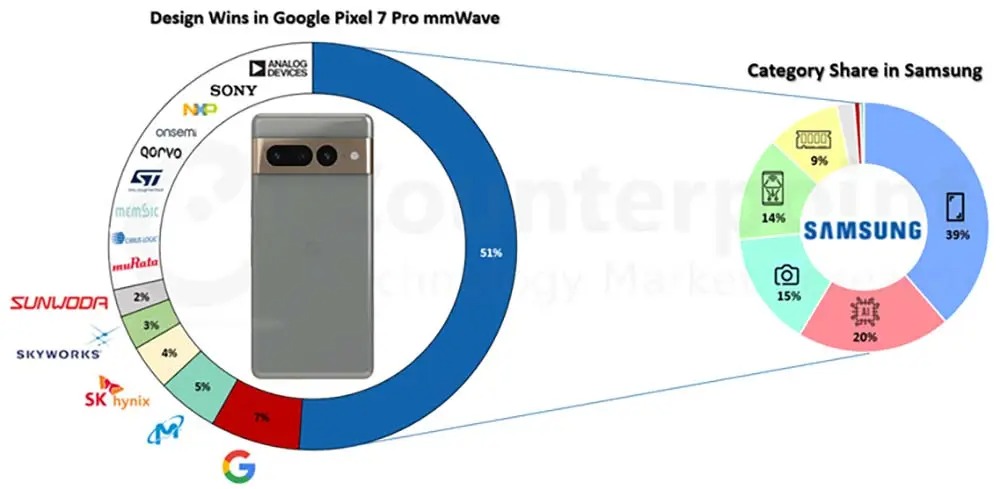 Must See: Download the Pixel 7 and Pixel 7 Pro Repair Manuals
Samsung Display sued on Pixel 7 Pro stands for 20% of the total costs, while the 5nm EUV process for Tensor G2 cost 7%. There are several other components including the ISOCELL GN1 Camera Sensor, 5x Periscope Zoom Sensor, and selfie sensor. Apart from these, the Micron RAM, SK Hynix 128GB NAND Flash Modules, Sunwoda Eltronic 5000 mAh battery, NXP Quick Charging IC, and much more.
However, this way the cost looks like half the actual retail price of $899, but these are just manufacturing costs. Other expenses such as development, Research & Development, and Promotions are not part of this total. Despite the manufacturing cost, we are still unable to calculate Google's profit on each unit.
Related: Best Pixel 7 Cases you should try in 2023
On the other hand, Pixel 7 Pro is garnering good sales, even Sundar Pichai confirmed it as the best-selling smartphone.